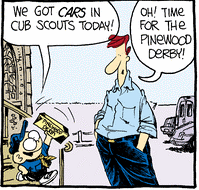 If you have not noticed yet, a comic strip called The Buckets is currently running a few days worth of comics about Pinewood Derby cars. The Cub Scout son does not seem to understand that he has to make a car from this block of wood he received. The father has limited time and tools to help create a masterpiece (which the Cub Scout wants to look like a Star Wars space vehicle. The comic creator, Greg Cravens, is doing an excellent job with the series.
Check it out at http://comics.com/the_buckets/2009-03-16/
By the way, the comic shown here is only the first panel of the first day's strip this week.