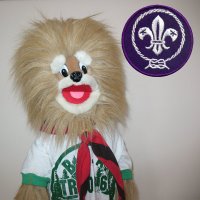 Here it is, the third episode of the Around The Scouting Campfire podcast. There is a lot happening in this show. It begins with Scoutmaster Steve and Buttons discussing a new (fictional) video game based on the adventure of Scouting. Then Steve reads an email he received six years ago about how things have changed being a kid, and how we as parents have changed raising our children. The Boy Scouts of Troop 68 try to teach us the Dirty Sock Song, and expect you to sing along. Buttons talks about how you know when you are a real Boy Scout. And Steve wraps up the show with a Scout leader's minute about what really make a troop a good troop. All of this in a show that is less than 18 minutes long!
Steve and Buttons would like to thank everyone who have sent emails about how they enjoyed the shows. Don't forget to leave a comment at the iTunes store or at PTC Media.
You can contact Buttons at buttonst68@yahoo.com. You may contact Scoutmaster Steve at stevejb68@yahoo.com. We appreciate your emails and letters.
The podcast is found on iTunes at
http://itunes.apple.com/WebObjects/MZStore.woa/wa/viewPodcast?id=307979159
and has joined the family of Scouting themed podcast at PTC Media at
http://www.ptcmedia.net/
Show notes:
The Dirty Socks Song – http://www.melrosetroop68.org/2008/12/mspp-57-dirty-sock-song.html
You Know You Are A Boy Scout When… – http://www.melrosetroop68.org/2007/09/mmspp-21-you-know-you-are-boy-scout.html
RSS Feed – http://feeds2.feedburner.com/MelroseScoutingAudioPodcast
Download episode – http://www.melrosetroop68.org/podcastaudio/MSAPE3.mp3