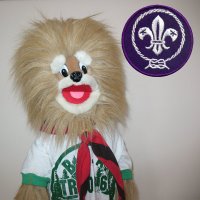 It is time for the second episode of the new Scouting-themed podcast, previously known as the Melrose Scouting Audio Podcast, but starting today will be known as Around The Scouting Campfire. Unfortunately, this episode was created before the new name so it still refers to itself as the Melrose Scouting Audio Podcast. Are you as confused as I am?
During this show Steve and Buttons talk about how famous Buttons really is (in his own mind), a father's rules about dating his daughter (like you have to be an Eagle Scout), and talk about Life With Dad. Buttons talks about the Scout Motto, "Be Prepared". And Steve introduces the rap version of the campfire favorite Little Bunny Foo Foo.
Steve and Buttons would like to thank everyone who have sent an email about how they enjoyed the first show. You may also leave a comment at the iTunes store and at PTC Media.
Buttons now has an email address. You can contact him at buttonst68@yahoo.com. You may contact Steve at stevejb68@yahoo.com. We appreciate your emails and letters.
The podcast may now be found on iTunes at
http://itunes.apple.com/WebObjects/MZStore.woa/wa/viewPodcast?id=307979159
and has joined the family of Scouting themed podcast at PTC Media at
http://www.ptcmedia.net/
Show notes:
Dating my daughter – http://www.melrosetroop68.org/2007/04/fathers-daughters-and-dating-scouts.html
Little Bunny Foo Foo – http://www.melrosetroop68.org/2008/12/mspp-58-rapping-bunny-foo-foo.html
Buttons and the Scout Motto – http://www.melrosetroop68.org/2007/04/mspp-5-and-6.html
RSS Feed – http://feeds2.feedburner.com/MelroseScoutingAudioPodcast
Download episode – http://www.melrosetroop68.org/podcastaudio/MSAPE2.mp3