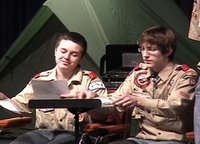 It is time to get back into the podcast thing and post another video to the Melrose Scouting Productions Podcast. This video is once again taken from the 2007 Laughs For Lunch Show done by the Boy Scouts of Troop 68.
The members of Troop 68 love taking well known skits and songs and changing them up just a bit to bring something new to them. That is the case with this song and skit which the Scouts tied together in a unique manner. It begins with the younger boys singing the old favorite, I Wish I Was A Boy Scout. But at the end of the song one person is still onstage as the next skit, Crazy Newscasters, begins. And there is a reason for that, but I am not going to tell you here. You have to watch the video to find out.
You are invited to leave a comment here using the link below, at the iTunes Music Store, or at the PTC Media forums. Or drop me an email at webmaster@melrosetroop68.org. It really is great to hear what you think about the podcast videos.
Click here to DOWNLOAD this Podcast
Subscribe to Melrose Scouting Productions Podcast through iTunes.
or at http://feeds2.feedburner.com/melrosescoutingproductions
Check out other Scouting podcasts at PTC Media.