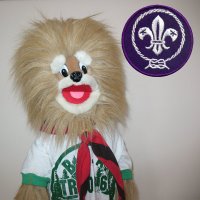 It has been a long time in the making, but the first Melrose Scouting Audio Podcast (MSAP) is done and ready to be heard. This new podcast will be hosted by me, Scoutmaster Steve, and Buttons, the radical Boy Scout. Current plan are to have four parts to the podcast: the opening monologue, "Around the Campfire", Buttons' Corner, and the scout leader minute.
The opening monologue will be a quick discussion between Buttons and myself about what will be coming up in the show. Nothing too fancy here because Buttons can be a handful when trying to carry one a conversation.
The second portion, "Around the Campfire", will feature a campfire-style song from one of the Melrose Scouting Productions video podcasts. If I run out of videos to take songs from I guess I may have to start singing them myself. Or maybe I could even feature other troops performing their favorite songs if they send me a mp3 file. This first episode contains the Hole In The Ground song.
"Buttons Corner" is the part of the podcast where Buttons gets to do his thing. Maybe he will talk about something Scouting, or have a couple jokes to tell, or audio portions of his videos will be played. In this episode, Buttons talks about the Outdoor Code and what it means to him.
As the podcast comes to an end it will be time for the scout leader minute. This is my time to share a story, or viewpoint, or a couple of stray thoughts about Scouting. In this episode I read John Wayne's explanation of the Scout Law.
As more episodes are created I may add more parts to the podcast. One thing I would like to add is "Buttons' Shout Out!" during which Buttons would recognize those packs and troops that write to him through this site. This could even turn into a feedback forum in which Buttons tries to answer some questions sent to him by the listeners.
I am also looking for a title for this podcast. At the moment I am simply calling it the Melrose Scouting Audio Podcast. I have also been tossing around the idea of calling it the "Around The Scouting Campfire" podcast. Do you like either of those titles, or do yoou have a suggestion of your own? Drop me an email with your thoughts at stevejb68@yahoo.com .
Anyway (as Buttons would say), it is time for you to download and listen to this first audio podcast. The normal feed will contain an mp3 file, but through this blog you can download either the mp3 or a AAC file, at least for now. The feed can be found at
http://feeds2.feedburner.com/MelroseScoutingAudioPodcast
Thanks for listening. I hope to hear (read) from you soon.
Download the:
mp3 file – http://www.melrosetroop68.org/podcastaudio/MSAPE1.mp3
AAC file – http://www.melrosetroop68.org/podcastaudio/MSAPE1.m4a