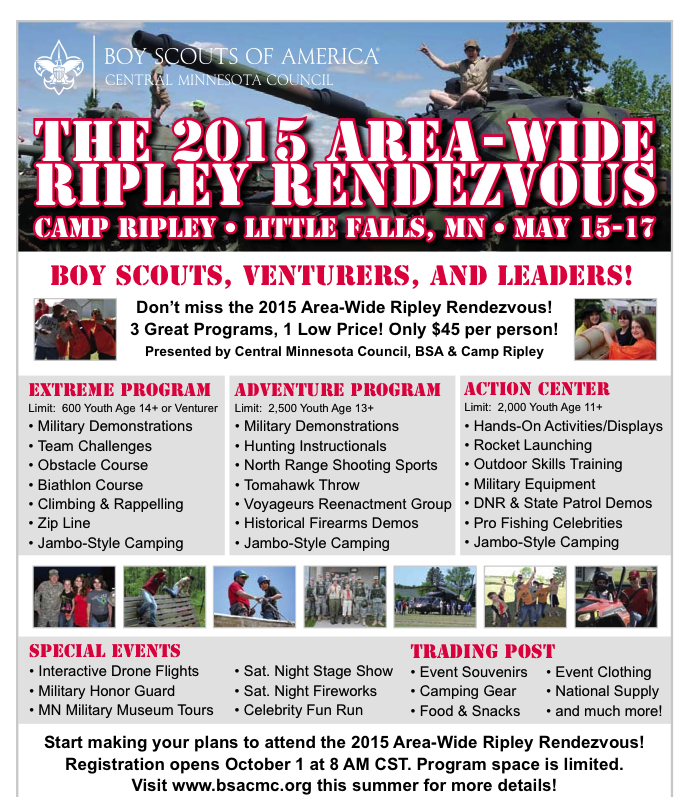 The 2014 council wide Ripley Rendezvous is now a part of history, but the Boy Scouts of Melrose Troop 68 can already look forward to attending a bigger and better rendezvous in 2015. Next year will be time for the Area-Wide Ripley Rendezvous which will bring Boy Scouts from all over the state of Minnesota, and a few Scouts from neighboring states, to the central Minnesota National Guard base. I believe at least four councils, if not five, work together to plan this activity.
There will be three programs provided for the Boy Scouts, based on the Scouts' age. The Extreme Program, for ages 14 and older will include Military Demonstrations, Team Challenges, Obstacle Course, Biathlon Course, Climbing & Rappelling, and a Zip Line. The Adventure Program, for 13 and older, will include Military Demonstrations, Hunting Instructionals, North Range Shooting Sports, Tomahawk Throw, Voyageurs Reenactment Group, and Historical Firearms Demos. The Action Center, open to all Scouts, will include Hands-On Activities/Displays, Rocket Launching, Outdoor Skills Training, Military Equipment, DNR & State Patrol Demos, and Pro Fishing Celebrities.
Special events for the weekend include Interactive Drone Flights, Military Honor Guard, MN Military Museum Tours (which is a favorite of our Boy Scouts), a Saturday Night Stage Show, Saturday Night Fireworks, and a Celebrity Fun Run. The Trading Post will be loaded with all kinds of goodies and special weekend souvenirs.
This event will be held on May 15-17, 2015. The cost per participant in only $45, which is not too bad considering the program offered. Troops will set up camp in a jamboree style setting.