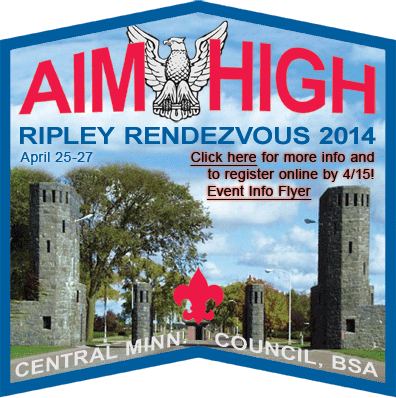 It is time once again for the Boy Scouts of the Central Minnesota Council to gather at Camp Ripley for the Ripley Rendezvous, an annual event hosted by the council and Camp Ripley. Camp Ripley is a National Guard Base found in central Minnesota near Little Falls. I know this weekend outing has been going on for at least 40 years because I remember attending when I was a young Boy Scout.
Ten Boy Scouts from Troop 68 are enjoying the fun offered by the program this weekend. What are they doing, you ask? Well, according to the council's website:
Ripley Rendezvous 2014 "Aim High!" will be held the Camp Ripley Army National Guard Training Facility, Camp Ripley, MN. This spring time event is truly a unique opportunity to utilize the traning facility's ranges and buildings in presenting two distinct levels of involvement.
The Adventure Program will be conducted at the ranges for everyone that enjoys shooting sports. Scouts will be using shot guns, .22 rifles, 50 cal. black powder inlines, archery, tomahawks, and sling shots; all skills that need a great deal of concentration to perform at your best.
The Scout Ops is an Extreme program for the older Boy Scouts and Venturers, who are ready for a more rigorouse program using advanced physical and mental trials that go along with team work and goal accomplishment. The personal satisfaction of knowing you did your best, no matter the outcome is something to be proud of. This older Scout program will have several static displays, exhibits and hands-on activities for everyone who wants a tougher challenge.
This is similar to the program of the last few years. While our Scouts were looking forward to attending the rendezvous I have heard that overall numbers of participants are down. It might be time to change up the program and offer something different next time.