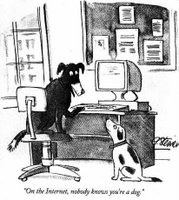 The month of January really kicked off the new year to a busy start for our troop's (and this blog's) website. There was a total of 26,097 visits to the troop's website, with a total of 134,705 page views. This includes 10,682 hits to this blog's homepage. All told, there was over 147.8 GB of data transferred. I think that is a record for the site.
Of course, most of that bandwidth is used by the video podcast. The top videos of the month of January 2009 were:
The Leaders of Scouting (Mike H) – 407 hits
Little Bunny Foo Foo – 455 hits
The 2001 National Jamboree Video – 480 hits
The Buttons and Randall Show #3 – 577 hits
I have to thank David H., a former member of Troop 68, for providing the space and bandwidth for the website. If he wouldn't provide the troop with the free domain, server, and bandwidth I would not be placing all these videos online for you to enjoy. Thanks David.
And thanks to all of you for reading this blog, watching the videos, and checking out our troop's website.