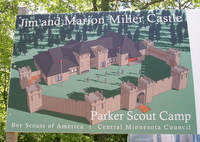 The Cub Scouts of the Central Minnesota Council will have quite a surprise when they attend Day Camp this year the Parker Scout Reservation. The medieval them will come to life like never before with the completion of the new Miller Castle. Yeah, you read that correctly. A castle! Complete with a courtyard surrounded by masonry walls and towers at the corners.
During last night's district roundtable we were shown pictures of the nearly completed castle. I will not lie. I was impressed. From the masonry exterior to the medieval decor on the interior of the building it appears to have captured the feel of the "knights of old" very well.
Of course, the castle includes all of today's modern conveniences. The building is well insulated and heated for year round use. It has a large modern kitchen and a large "commons" room for dining and activities. There are separate bathroom and shower facilities for the youth and adults. A "barracks", complete with bunk beds, is available for troops and packs who wish to use the building for overnight stays. The basement adds one more storm shelter to the camp, in addition to a large storage area for program materials.
I am looking forward to going to Parker this spring and touring the castle. I believe it will be a great addition to the camp and will help to increase the number of Scouts, packs, and troops who use the facilities.
Pictures of the Miller Castle can be seen at our council's website at http://www.bsacmc.org .