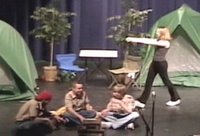 This episode of the Melrose Scouting Productions Podcast gives you two campfire favorites for the price of one. (Well, the price is free so I guess that does not really matter.) One song and one skit. From two different troop Laughs For Lunch Shows. Yep, we are spanning the decades with this episode.
The first skit we call The Sleepwalker. It involves some Boy Scouts sitting around the campfire late at night, talking about the events of the day, when a sleepwalker walks up to them and takes stuff from them. They do not want to awaken the sleeper though because, "It is dangerous to wake up a sleepwalker. She'll bring it back in the morning." Oh yeah, that IS a girl who happens to be sleepwalking.
The second part is a Scouting favorite known as the Baby Bumblebee song. The Scouts had the audience participate in this song during the show. Unfortunately, we do not have any footage of the audience singing along. The boys do a great job, and the last line always gets a smile from me when I watch it.
You are invited to leave a comment here using the link below, at the iTunes Music Store, or at the PTC Media forums. Or drop me an email at webmaster@melrosetroop68.org. It really is great to hear what you think about the podcast videos.
Click here to DOWNLOAD this Podcast
Subscribe to Melrose Scouting Productions Podcast through iTunes.
or at http://feeds2.feedburner.com/melrosescoutingproductions
Check out other Scouting podcasts at PTC Media.