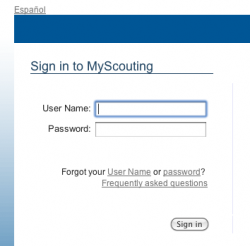 Do your Youth Protection Training online, they tell us. Take your position specific training through the website, the council promotes. You should be doing your troop advancement through the internet, not through paperwork, I am told.
How the hell am I suppose to do anything online through MyScouting.org when the website does not even recognize me?
I have been a registered adult leader with the B.S.A. through Boy Scout Troop 68 for over 33 years. I am also on roundtable staff and a member of the Cub Pack committee. I once was able to use the myscouting.org website without a problem. Then something happened a year ago, right about this time. I was up for Youth Protection Training and tried to get on the website to take it once again. I could not get on it. I tried Safari and Firefox on my home computer ( I use a MacPro). I tried at work. No luck there either.
I call my district executive and explained the situation. I have to admit, he went out of his way to try to fix it. He even called the national office. It took over a month, and a phone call from someone at the website, but it got fixed and I was able to do the YPT online. I have to say though, I was very frustrated with the B.S.A. during that time period.
I have not been back to the myscouting.org site for several months. I had no need to visit it. I had a nice visit with my district executive this afternoon and we talked about internet advancement. Our troop does not currently use it. I told Bob that he should email the information to me and I would take a look at it.
Meanwhile, I tried to get into myscouting.org on my Windows based computer at work. I tried Internet Explorer and Firefox. I could not enter the site through either one. (The server could not sign you in. Make sure your user name and password are correct, and then try again.) Maybe I forgot my password, I thought. I tried to reset the password but the site threw a page at me with a lot of code which meant absolutely nothing to me. Okay, I will try again at home and see if I was using the right password.
After supper, I received the information from my D.E., including my username and password. Surprise! They was the same ones I had tried using at work. I tried it again on my home computer. I used Firefox and Safari. Neither one worked! We are back to playing that locked-out game once again.
Can you tell that I am frustrated once again? The national and council offices want us to do virtually everything online these days, yet they lock me out of my account so I can do nothing. It is like I do not exist. If this is how the national office wants to treat me after 33 years of volunteer service I feel like it is time to tell them to forget it. If they don't want me as a volunteer anymore then just tell me. If I am so low on their radar that they cannot even keep my account active then maybe it is time to quit this organization and find one that does appreciate the work I do for it.
I have dropped an email to my D.E. to let him know what is going on again. I feel sorry for him, because I know what he went through last time this happened, but what can I do? I know no one at the national website, and from the looks of it, they do not know me.
Have any of you out there have any similar problems with this website?