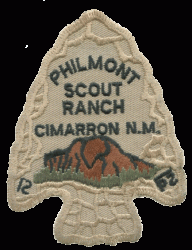 Some of my favorite Scouting memories are from my trips to Philmont Scout Ranch in New Mexico. I have been lucky enough to attend Philmont six times: once for scoutmaster training and five times on a trek with the Boy Scouts of Melrose Troop 68. Needless to say, Philmont holds a special place in the heart of this long time Scouter.
It has been ten years since Troop 68 has planned a high adventure trip, so at Wednesday's committee meeting I brought up the idea that we should start planning for one. We discussed briefly each of the four national bases, the approximate costs of each one, and transportation issues. We talked about the two to three years of planning and fundraising required for this type of outing, and how it would give the younger Scouts something to look forward to as they get older.
Of course, I am partial to Philmont. The Charles Sommers Canoe Base would be the closest and least expensive. The Florida Sea Base would be a fantastic adventure but also the most expensive, probably. We talked a little about the Summit in Virginia, but we did not have much information about that base yet. The committee decided to bring it up to the Boy Scouts to get their opinions.
The theme of the Scenic District's January roundtable is High Adventure. I am going to have to try to get our scoutmaster and maybe a few Scouts to attend this meeting. In fact, one of our Scouts participated in a Philmont trek this summer so I am going to ask him to come to the meeting and give us a brief summary of his experience.
Talking about Philmont at the committee meeting. Upcoming theme about high adventure bases at the next roundtable. Add to this that I was watching the Philmont Documentary Collection DVD this week and you can see that I have been thinking about Philmont a lot recently.
On Thursday I received a surprise when I looked through my mail. There was a letter from Philmont Scout Ranch. Talk about timing! I thought it was a brochure about the treks available for Boy Scouts. My surprise grew when I discovered it was an invitation to attend the Philmont Training Center in the summer of 2014. I was grinning from ear to ear.
I called Bob, my district executive, to ask him about this. After all, you do not get an invitation unless your council recommends you. He explained that my name was on the short list that the council thought might be interesting in attending a course at the ranch. He also told me that he was thinking about attending a course himself. If I decided to attend, and our courses happened to be the same week, we could drive down together.
As I hung up the phone I could not help but think about all the Philmont related coincidences that happened this week. Add to this that 2014 would be the 30th anniversary of my first trip to Philmont (for training) and the 10th anniversary of the last time I attended the ranch (for a trek with the troop).
It almost seems like I am being called back to those starlit skies above, those aspen covered hills, and the country that I love. Is it time to return to Scouting's paradise?