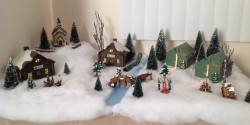 It is finished. I have set up my Scouting Village for the 2013 Christmas season. What do you think of it?
The village fills a 2.5 foor by 3.5 foot sheet of plywood. It contains the 2012 and 2013 collection pieces. Except for the Trading Post, that is. But at least I have two Ranger Cabins. ( I am still a little upset with myself over that.) I also bought two lighted tents because a campsite is just not a troop campsite with only one tent. I set the church higher than the rest because it is a smaller scale. I thought it might help it look further away and more in proportion to the rest of the scene. The campsite is across the river from base camp because I do not think a troop would want to camp next to the busiest part of camp.
The "snow" was picked up at a hobby store. The blue river is simply felt paper. The scene contains two sets of the trees from the Scouting Village collection. The rest of the trees came from my Dept. 56 Dickensville collection. I think the trees really add to the looks of the campsite. I also found a little wood pile which fits well with the Boy Scout cutting wood for the evening fire.
Have you set up your Scouting Village yet? How does it look? Send a picture or two to me and I will feature it in a post to this blog.
Click on the pictures to see the scene in more detail.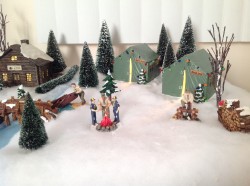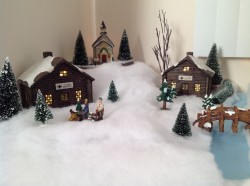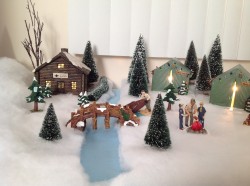 I wonder what pieces will be added to the village next year. I bet I will need a bigger sheet of plywood.