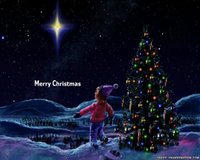 Late last night, on Christmas Eve, several of us from around the country joined Chris for his live "An Hour A Week" Christmas show. The chat room was very lively as we listened to Chris and the various Christmas music he was playing.
He invited us to join him on the show, so I thought I would try reading the story "A Christmas Scout". It is one of my favorite Scouting Christmas stories (not that there are that many too choose from). I recorded it while Chris was playing some music and sent him the mp3 file to use during his show.
The first thing I noticed when the mp3 was playing is that it did not take long for the chat room to become pretty quiet. Nearly everyone stopped typing to listen to my reading. I must have done a decent job, because after it finished people started writing about how well I had done. Even a tear or two had falling by the end of the story. Immediately, a couple people asked for a copy of the mp3. Within minutes Chris had a copy available through the PTC Media site.
And one more thing… I would like to wish all of you a very Merry Christmas.