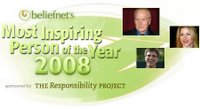 I found this article on a blog called Scouting Maniac (http://scoutingmaniac.blogspot.com/). They write about a site called BeliefNet which is sponsoring a contest called Most Inspiring Person of the Year 2008. Here is what is written:
This is not Friends of Scouting or asking for money, this is about honoring a group of scouts who gave selflessly to help those in need at Little Sioux Scout Ranch, where over this summer had a tornado tear through the camp. Belief Net which is a online website that offers a award called Most Inspiring Person of the Year, this award gives a large sum of money to the winners charity of choice. But in order for this to happen we need to get votes in on the website as soon as possible because voting ends this coming Friday. The website you must go to vote is that of:
http://www.beliefnet.com/Inspiration/Most-Inspiring-2008/index.aspx?loc=interstitialskip
Not much time left to vote on this, but I did. It is a close race at the moment. If the Boy Scouts receive more votes they could win this. Check it out and vote.
Update 12/6/08:
The Boy Scouts have made it to the list of three finalists. The site states, "Your top three picks are our most Inspiring finalists. As we do every year, the editors of Beliefnet will now make the final choice. Come back December 10 to see who won!" The final three include the Boy Scouts who survived the Iowa tornado, Randy Pausch, the computer science professor at Carnegie Mellon University, and Christian musician Steven Curtis Chapman. I guess I will have to check back in few days to see who becomes the site's Most Inspiring Person of the Year.