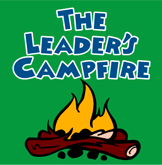 Last night I had fun with several Scout Leaders from around the country, and from the other side of the world. Cubmaster Chris and I were joined by three Scouters for a trivia game which was recorded for next week's episode of The Leader's Campfire podcast.
I am from Minnesota. Chris lives in Texas. Jerry is a scoutmaster in Oregon. Shawn is a unit commissioner in Wisconsin. The four of us are familiar with recording a podcast since we each have our own, or have guested on someone's show.
The last member of last night's group was Michael. Michael is a 21 year old Scout leader in New Zealand. My troop and I met him at Many Point Scout Camp this summer. (Michael will be a guest of another episode of The Leader's Campfire later this month when we discuss international Scouting.)
The five of us were in a goofy mood as Chris began the recording the podcast. This show was quite different then the usual serious show that Chris and I record. This episode involved a trivia contest, and we all sort of reverted to being a teenager once again as we played the game.
Since I owned the trivia book, I was the game show host. The other four guys were the contestants. The questions came from the Scouting Mania trivia book which is based on information found in the 1986 edition of the Boy Scout handbook.
We all had a blast. In addition to playing the game we were constantly teasing and giving each other a rough time. From Chris' Texan accent to Shawn's position as a "mythical" unit commissioner, everything was fair game. We had so much fun that Chris thinks we will need to do a show like this a few times a year.
Of course, you, our listeners will be the true judge of the show when it is posted next week, probably on Tuesday, December 9. Will you have as much fun listening to the podcast as we did recording it? Be sure to leave your comments on The Leader's Campfire forum at PTC Media ( http://www.ptcmedia.net )