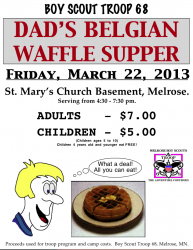 Boy Scout Troop 68 held its spring fundraiser last Friday, a Dad's Belgium Waffle Supper. This was the fourth year we held a spring waffle supper. The troop use to hold a Palm Sunday pancake and sausage breakfast but when the troop membership became less than a dozen Scouts we switched to the Dad's Belgium Waffle meals because we no longer had enough Scouts and parents to work our own breakfast. Melrose is a predominately Catholic community so we hold our spring waffle suppers on the Friday before Good Friday to give folks an option other than fish for supper. It has worked out fairly well.
The troop members began pre-selling tickets for the supper five weeks before the meal. We took the third February troop meeting and used it as a ticket selling kickoff event. I was a little disappointed when only three of the eight Scouts showed up that night. It was a cold evening but the boys went out and sold nearly $180.00 worth of tickets during that hour of sales. That was only a third of the tickets we sold last spring on the first night of sales. It was not a great start for this year's fundraiser.
During the coming weeks the Scouts were on their own to pre-sell tickets. When the event arrived I discovered that only six of nine Scouts actually went out and sold any tickets, including our newest Scout who joined the troop after the sales began. While three Scouts did not sell any tickets two sold nearly $200 worth, one sold over $350 worth, and one sold over $900 worth of tickets. The troop pre-sold a over $2000 in tickets for the supper. Now it was up to the door sales to see how well we would finish this spring.
The supper began at 4:30 and lasted until 7:30 on March 22. People had already arrived at the opening time and for the next 90 minutes there was a steady stream of people coming to the church basement to eat all the waffles their stomach could handle. We also served fruit cups and cheese curds, along with coffee and milk to wash it down. Most people were satisfied with one of the huge waffles, but many went back for seconds, and a few even tried thirds.
This morning I, as the troop's treasurer, sat down to see how the bills compared to our income. While things are not quite finalized it looks like we made a profit of over $1200. Of this, approximately $440 will go into the Scouts' individual credit accounts which they will use to offset the cost of camp. About $850 will go into the troop's general fund. While it was a good fundraiser it was down about $300 from last year.
This is the only spring fundraiser the troop conducts. In the fall the Scouts will have a choice to participate in the council's popcorn sales. And, depending on what the committee decides at their April meeting, we may have a fall waffle breakfast.