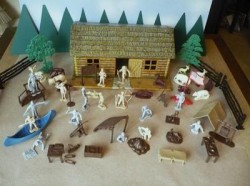 I subscribe to the eBay Scouting Hot Finds Newsletter that is done by Jason Spangler. While most of the eBay auctions featured are for various patches once in awhile he lists something new that catches my eye. Today was one of those days. There is an auction that ends today for a 1950s MARX TIN LITHO CABIN, WITH SCOUTS AND ACCESSORIES. It is like a toy soldier action playset except that it features Boy Scouts figures at a summer camp setting. It features a scoutmasters cabin with 16 scouts, 29 different pieces of accessories and 14 North American wildlife figures. I never knew something like this existed. At the time I write this the bid is at $222 with six and a half hours left to go. The picture shown here is an overall view of the playset but more pictures are posted to the action that show more details. Check it out at http://www.ebay.com/itm/ws/eBayISAPI.dll?ViewItem&item=261187177809
While I would love to have this as a part of my Scouting collection but it is already out of my price range. (My scoutmaster pension was not as much as I had hoped for. jk) Of course, you never know. Maybe I have a reader of this blog who would like to purchase this set and give it to me as a present.
It could happen.
UPDATE: The playset sold for $255.00.