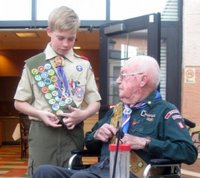 There is an article in The Arizona Republic that is a great news story about Boy Scouting. Most families are happy to boast about having one Eagle Scout. How would you like to be part of a family with four generations of living Eagle Scouts? You can read about it at
http://www.azcentral.com/news/articles/2008/05/27/20080527eaglescouts0527.html
Here is a portion of the article…

Thomas Shelton Boggess Jr. met President Herbert Hoover for a brief photo shoot in 1931, but his visit today with President Bush today means much more to him.
That's because Thomas Jr., 96 and in failing health, will be among four generations of Eagle Scouts in his family meeting the president when he arrives at Sky Harbor International Airport.
Thomas Jr., who lives in a Phoenix assisted-living center, fought back tears Monday when asked what it means for him to meet the president with four generations of his family.
"I'm very proud of him," Thomas Jr. said of his great-grandson, Thomas Shelton Boggess V, 13, known to his family as Shelton. "He did it especially for me. He wasn't selfish."
Shelton, of Flagstaff, said he organized a crew of 15 boys who built a fence around a church as an Eagle Scout project. Shelton said he knew the clock was ticking for his great-grandfather.
His father, Thomas Shelton Boggess IV, 41, a Flagstaff home builder, said his son expedited the badge process. It's more typical for a boy to achieve the Eagle Scout rank at 15 or 16.
"It makes me feel very special and important to our family," said Shelton, an eighth-grader at Northland Preparatory Academy. "I knew it was a great honor for him."
His great-grandfather said, "All the gold in Fort Knox wouldn't compare to what it meant."