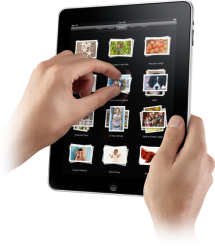 100 Days of Scouting: Day 60.
Tuesday night, at the Scenic District Roundtable, a short discussion of iPads, iPods, and cell phones came up. Most of the troops represented stated they have a no-electronics policy on camping trips, similar to my troop. We also agreed, somewhat reluctantly, that these policies may need to be changed in the not-too-distant future. The boys are growing up with these gadgets and are becoming  an important part of their lives. Add to that the growing number of apps available that are Scouting related and I can see Boy Scouts and adult leaders wanting to bring these things along.
I have been wanting to buy an iPad since version 2 became available. Before the roundtable, I stopped at Best Buy to play with one and look at the accessories. I think I am going to hold off with that purchase for awhile. Here is what the budget looked like:
iPad 2, 64 GB – $700.00 (Wi-fi only)
Smart Cover – 40.00
Digital AV Adapter – 40.00
Charger        – 40.00
Misc Apps   – 50.00
Subtotal  – $870.00
Tax                 – 60.00
Grand Total – $930.00
Wow! The sticker shock got to me a little. Yes, I can use it for apps and games. Yes, I can use it as an e-reader. Yes, I can watch movies and Podcasts (like Melrose Scout Productions Podcast). This gadget would nicely compliment my Mac Pro computer. However, I do not think I would get $900.00 of use out of it. It would be a very expensive toy, one with a very cruddy camera system.
I still want one though.