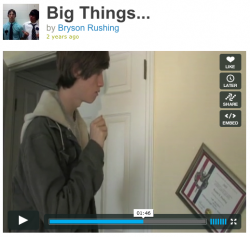 Yeah, I know. This is supposed to be YouTube Tuesday. Well, excuse me (as Steve Martin used to say). I found a great little video on a website called Vimeo that I thought would make an excellent suggestion for today. According to the video information:
A young man fights a battle within himself over whether or not to smoke. Ultimately, he learns something about himself and, with the principles of the scout oath and law as his guide, makes the choice to be "bigger" than he ever thought he could.
This video is my entry into the "Smoking Stinks" video contest hosted by the Boy Scouts of America. If you liked it, then feel free to vote at the following link.
Big Things… from Bryson Rushing on Vimeo.
What did you think about it?