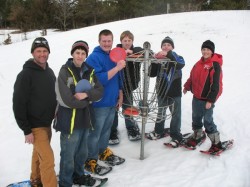 The weather forecast did not give the impression that this month's troop activity would be much of a winter outing. The temperature had been above freezing for most of the week. A lot of the snow cover had already melted before we left for camp on the evening of Friday, March 18. The forecast for Saturday had temps in the mid 40's, with rain Saturday night into Sunday morning. It was looking like the Boy Scouts would have to change a few of their planned activities.
The Boy Scouts of Melrose Troop 68 arrived at Camp Stearns about 7:30 Friday night. Five deer greeted us as we rode through the camp. The campmaster surprised us when he told us that the sledding hill was still open, but that is was very icy. The boys were happy to hear they could use the hill because that was one of the highlights of the weekend.
We did not have much daylight left when we arrived at camp so we quickly unpacked the vehicles and walked to the sledding hill to check out the snow conditions. They hill was still snow covered but it was extremely icy. The Scouts were able to slide down the hill on their belly, without the use of any sleds. They looked like a group of penguins. They returned later in the evening, after organizing their gear, with sleds for a proper sledding activity. The evening ended with the boys watching the movie "Dragonheart" in the lodge.
The older Boy Scouts worked with the younger Scouts on their advancement requirements Saturday morning. After lunch, the boys picked up snowshoes and frisbees from the camp staff, and walked to the disc golf course. A couple of deer greeted the Scouts on the fourth hole. The troop usually plays nine holes while at Camp Stearns, but since the broomball field was a mud pit, they decided to play the entire eighteen holes. This was the first time that many of the Scouts had worn snowshoes so that added a new experience to the game.
The rest of the afternoon was filled with rest, relaxation, and board games. Following a supper of steak, potatoes, and corn, the Scouts went back to the softened sledding hill for another hour of fun. The evening finished with the movie "Indiana Jones and the Last Crusade".
The troop awoke before 7:00 Sunday morning. By 8:30 am they had finished breakfast, had packed their gear, and had loaded the vehicles. It was time to go home and relax from a fun filled weekend.
100 Days of Scouting: Days 39-41.