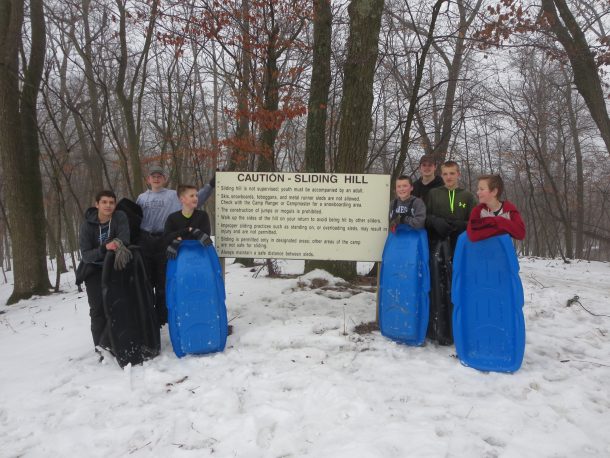 It is winter in Minnesota. That means it is time for the Boy Scouts of Melrose Troop 68 to spend a weekend at Camp Stearns for their annual winter outing. It is a tradition that began over 15 years ago.
Seven Members of Troop 68 attended the weekend outing near Fairhaven this year, along with two adult leaders. They left Melrose January 20th, a foggy Friday night, and returned on a much less foggy Sunday morning. The forecast for the weekend was for the weather to be damp and above freezing, which was not the best forecast for a winter activity.
The Troop had reserved the Whitewater Lodge which allowed them to have a warm, dry place to sleep and relax. Their schedule would keep the Scouts outside for a good portion of the weekend. Their are plenty of activities at Camp Stearns if a troop decides to take advantage of them.
Once the Troop had checked in with the camp master, and the Scouts had unpacked the gear, it was time to do a little exploring. The first stop was at the quartermaster's building to check on gear. The next stop was the sledding hill. Camp Stearns has a great sledding hill which has lights for evening fun. The Scouts were hoping that there would be enough snow on the hillside after the warm weather we had had during the past week. There was plenty of snow. The boys went back to their Lodge, changed clothes, and had fun sledding before calling it a night.
The Troop had a full schedule Saturday morning which included time older Scouts helping the newer members work on their advancement. Most of the boys participated in an orienteering course and hike. Then it was back to the sledding hill for another hour of racing down the hillside.
Camp Stearns has two nine-hole disc golf courses so you can probably guess where the Troop spent a portion of the afternoon. They discovered it takes longer to play a round in the winter time because it takes longer to find the thrown discs in the foot deep snow. The Scouts did not mind. They were having too much fun playing the game and talking smack at each other.
After supper, the boys had a short religious service and relaxed with a game of Catan and a movie. They also had the chance to surprise their Scoutmaster on his birthday with a song and cupcakes baked by one of the boy's mother.
The Troop was on their way home by 9:00 Sunday morning after a quick breakfast and cleanup of the building. Plans were already being discussed for next year's trip to Camp Stearns.