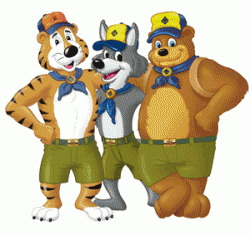 Tonight is Cub Scout Pack 68's Blue and Gold Banquet. It will be the first one I have attended in five years. Not because I did not want to attend any, but because there have not been any Webelos Scouts to crossover. That, and I was not invited to the last few of them.
I will be attending this year's event. There still are not any Webelos Scouts to crossover, but the Boy Scouts and I have some things to do. The Boy Scouts will be assisting with the opening and closing ceremonies since the Cub Scouts have not had any time to practice.
I have three reasons to attend the banquet. First, of course, is to present a troop presence along with the Boy Scouts. The second is to present a slideshow I made featuring the pictures I took during the den meetings and Pinewood Derby. I think the boys and parents will get a chuckle out of it. The third reason is to talk about Friends of Scouting. I volunteered to give this presentation to save our district executive a trip to town. He will be coming next week to talk at the troop's court of honor.
I hope things go well during the Blue and Gold banquet. I also hope the pack holds together and continues to grow. It would be nice to see some Webelos Scouts crossover in a few years.
100 Days of Scouting: Day 43.