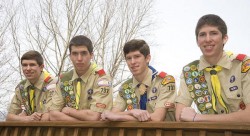 Here is something you do not see everyday, or even more then once in a lifetime. It is something special when four brothers in one family each receive Boy Scouting's highest award, the rank of Eagle Scout. When the four brothers are quadruplets, well, that adds a whole new meaning to special.
Check out the story about the Goodspeed brothers at the Bryan On Scouting blog, found at http://blog.scoutingmagazine.org/2011/03/10/quadruplets/ Congratulations to the four new Eagle Scouts.
Are there any quintuplets out there who can do better? Hmmm? Anyone?