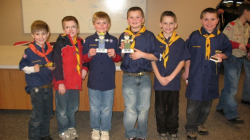 Cub Scout Pack 68 of Melrose will be holding its Blue and Gold Banquet later this month. To provide a little entertainment during the evening I have volunteered to produce a slideshow of the pictures I have taken when I attended their den meetings and the Pinewood Derby. This slideshow is being sneak previewed for the Melrose Scout Productions Podcast.
How many of you have done something like this for your Pack meetings or Blue and Gold Banquets? How did your audience and the Cub Scouts like it?
Click here to DOWNLOAD and watch this Podcast
or watch it at MSPP channel at PTC Media.
Subscribe to Melrose Scout Productions Podcast through iTunes (and rate the show)
or at http://feeds2.feedburner.com/melrosescoutingproductions
Leave feedback here, or at iTunes.