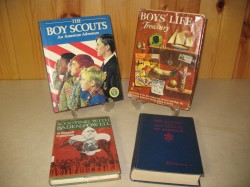 On this Memorabilia Monday I would like to present four books of my collection that share a theme of Scouting History.
The first book is The Boy Scouts: An American Adventure, written by Robert W. Peterson, and published in 1984. It was a book printed for the 75th anniversary of the Boy Scouts of America. The book is broken down into four parts: 1900-1915, 1915-1935, 1935-1970, and 1970-present (1984). The book is full of black and white and color pictures covering the decades of Scouting. One of my favorite parts of the book shows how to build a tree house designed by Dan Beard.
Scouting With Baden-Powell, written by Russell Freedman in 1967, is a biography of Lord Robert Baden-Powell, the founder of the Scouting movement. The book does a good job of covering his life. You need to get through two thirds of the book before it starts talking about Scouting. I received this book for free. The librarian of the junior high school library gave it to me when they were discarding old books they did not feel they needed any longer.
The Boy's Life Treasury, printed in 1958 by the Boy Scouts of America, is a great book to have in any collection. This 480 page book features  a selection of the best stories and articles from Boy's Life magazine.My copy of this book is in excellent condition, even if the book jacket is beat up a bit. Amazingly, this book retailed for only $4.95 when it was released. I also own The Best Of Boy's Life which was published in 2010 for the B.S.A.'s 100th anniversary.
The pride of my Scout history collection is The History of the Boy Scouts of America. It was written by William D. Murray in 1937. This 574 page volume is rich in Scouting history to that point in time, and contains a lot of photographs and sketches. The first photo in the book features William Murray presenting the 5,000,000th handbook to President F.D. Roosevelt. Four Eagle Scouts stand behind the President. I was lucky enough to find a copy of this book that is in excellent condition. If you really want to know the details about the first thirty years of the Boy Scouts of America, this is the book for you.
Do you have any books about Scouting history? Leave a comment and tell us about it.
100 Days of Scouting: Day 14.