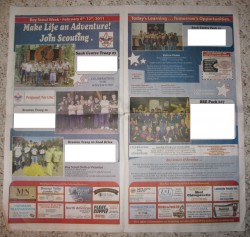 A few days ago I wrote about a full page ad in the weekly newspaper celebrating the anniversary of the Boy Scouts of America and the local Scouting program. The spread featured pictures of the local Boy Scouts and Cub Scouts. It was pretty impressive.
I received a copy of the Sauk Centre Herald yesterday. (That is the weekly newspaper in our neighboring town that is also owned by the same group as our Melrose Beacon.) I was quite surprised to see a two page ad about Boy Scouting in the center of the first section. The spread features photos of Sauk Centre Troop 25 and Pack 25, Brooten Troop 66, and BBE Pack 667. Sixteen businesses sponsored the ad. Click on the thumbnail to see a larger picture.
Does your local newspaper do something similar? Let us know about it by leaving a comment.
Note: The names of the boys have been deleted from the picture as per the Guide To Safe Scouting guidelines.