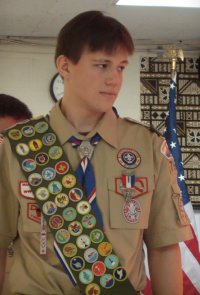 I usually try to keep this blog in an upbeat mood, but I received a letter today from Justin Szalsa, the director of 759: Boy Scouts of Harlem, with some unhappy news this morning. One of the stars of the film, Colin "KC" Byers, has passed away. Here is Justin's letter, reprinted with his permission:
Dear friends of 759,
I am writing you to report some very sad news. As some of you already know, our friend Colin "KC" Byers, an Eagle Scout and a star of "759," died suddenly on February 1st . He would have celebrated his 18th birthday on February 9th.
Colin was struck down within a matter of hours by a massive brain trauma related to a blood disorder called ITP that developed very rapidly. Some of you may know that Colin organized a blood drive for his Eagle service project and made it a point to regularly donate blood.
For the Byers family this is a second tragedy in too short a time–Colin's father, the composer Patrick Byers, died just a few months earlier after a battle with cancer. Colin leaves behind his mother, Jennifer, two younger brothers and a younger sister—along with a very large family and huge group of friends. The Scouts of New York City, The Village of Harlem, Troop 759, Miss Ann, Mr. Sowah, Jake and I are devastated by the loss of our friend. Please remember Colin and his family in your thoughts and prayers.
For those of you in New York City, there will be a memorial service in Colin's honor at LaGuardia High School at 100 Amsterdam Avenue at 65th Street on Saturday, February 12th from 10AM-noon.
Also, many of you have asked how you can materially support the Byers family. The Boy Scouts of America Greater New York Councils have offered to assist anyone who'd like to make a donation to support the family. The gift will not be tax deductable but your support will go directly to the family. Simply indicate on your check "Byers Family"and mail it to
Byers Family
c/o Greater New York Councils
Boy Scouts of America
350 Fifth Ave, #430
New York, NY 10118
Finally, Albert Maysels, one of the greatest American documentary filmmakers who I admire very much said to make a good documentary you have to love your subjects. Jake and I love KC, Patrick and the rest of the Byers family. We will miss them.
-Justin Szlasa
Update: A video has been posted to YouTube in memory of Colin –
http://www.youtube.com/watch?v=pbLWnAtFTMM