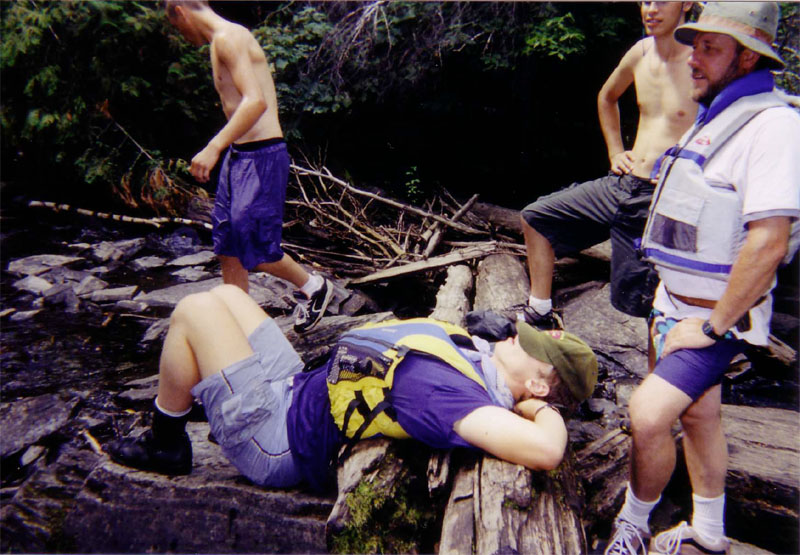 In 2002, Troop 68 sent two crews to the Charles Sommers Canoe Base near Ely, Minnesota, to canoe through the Boundary Waters Canoe Area. This was the first time Troop 68 had sent anyone to this high adventure base that was practically in our own backyard. One crew consisted of the older Boy Scouts, 15-17 years old. The other crew was made up of the younger boys. I was one of the two adult advisers for the older boy crew.
We were assigned an interpreter when we arrived at the base camp. A CSCB interpreter is similar to the Philmont ranger. The interpreter prepared us for our five day trip, helped us to plan our trip through the BWCA, and then went on the trip with us, providing pointers and how-to advice along the way.
Our interpreter, Sinclair, was a very nice guy who really knew his stuff. We could tell he loved being a part of this high adventure base. He was easy to get along with and the Scouts enjoyed having him around. He also had the ability to fall asleep easily, in any position, and at any time. When we would take a rest break there would be Sinclair, sleeping on top of a fallen tree. Once camp was made for the day Sinclair would disappear into his tent for a quick nap.
We had no problems with Sinclair taking a nap. In fact, I envied him being able to nod off so easily. One of the first days though, it backfired on him. He was taking a nap in his tent after camp was set up. The Scouts had begun cooking the evening meal. They used every pot that we had brought along on the trip. Sinclair was not a happy camper when he woke up and all the messy pots. He had a nice chat with the Scouts about one pot meals, or at least using as few cooking utensils as possible. The next day we noticed he did not take a nap if there was work to be done by the crew.
Like I said, he got along great with the crew, both the boys and the adults. The boys enjoyed the trip so much that they wrote a poem about it, including various events along the way, the food, and of course, our interpreter's naps. One crew member read the poem during the closing program at base camp our last night. I think Sinclair was a little embarrassed. Here is is for your enjoyment….
And The Interpreter Slept
written by The 2002 BWCA Crew B, Melrose Troop 68
Our trip to the BWCA
began one glorious day.
The interpreter was late to eat.
He jumped to another when they would meet.
Then our interpreter slept.
We paddled through the rain
though a lot we did gain.
A downed tree interrupted our strut
We realized through it we must cut.
And our interpreter slept.
Through the deep mud we did trudge
All but two were stuck in the sludge.
Before a picture we took
No one escaped from the gook.
And our interpreter slept.
Though the portage had been tread
by two we still had not been fed.
To get us anything to eat
We pumped and pumped and pumped 'till vee vere beat.
And our interpreter slept.
When it came time for supper that night
We used every pot in site.
Sand infiltrated the sweets we ate.
"It's crunchy. It tastes like cereal. It's awesome. It's great!"
Because our interpreter slept.
Through the rapids we did walk
Though at the site of a ruined canoe we balked.
And though Ben's hand was half ruined
all replied, "Tis only a flesh wound!"
As our interpreter slept.
Our interpreter could not count 'til eight
so we had to share the food we ate.
Since he could not seem to count past six
We taught the Magic Eskimo Counting Sticks.
Then our interpreter slept.
Our Scout leader got us lost
to a lake only dogs cross in frost.
It took us out of our way
Adding two miles to our day.
While our interpreter slept.
A portage with rollers and a dock
Got us over with an easy walk.
The portage seemed to be a cheat
though Mike continued to loose his feet.
And our interpreter slept.
Schwieters took the rap
because our eggs tasted like cr___.
We took the portage two miles long
through a rain that could drown King Kong.
And our interpreter slept.
We arrived early to base
through the cold hard rain with haste.
So we finished our Northern Tier trek
Happy, but severely bent to heck.
And the crew finally slept.
**By the way, if you would like to see pictures from the trip check out of troop's high adventure page by clicking HERE.