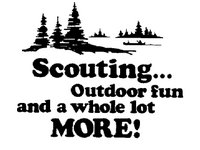 Over the last few years it seems that Philadelphia is doing its best to get rid of the Boy Scouts of America within it's city. I really don't understand why the city council has taking such a hard line case against the Scouts after 80 years of Scouting doing so much good for the city. It would seem to me the city has more important issues, like crime and gangs, that they should be concerned about. Why pick on a great organization like the BSA?
I have been reading posts in the Scouting groups and forums that I am a member of, and WOW, do feelings go across the board. I do not think any form of government has the right to impose it's sense of "morality" on any group like the BSA, especially when many governments seem to be lacking in any sense of morality. The supreme court has stated that the BSA has a right to state membership guidelines for the organization, a right granted by the constitution of the United States. Oh well, I am not going to argue about it here.
I would suggest that you read this article I found that was written by Hans Zeiger, the author of "Get Off My Honor: The Assault on the Boy Scouts of America." You can read it by clicking this LINK.
Another good article can be found at The Scoutmaster Minute. Jerry has written a nice article dealing with a "pest" that has been trying to post his opinion on that blog.