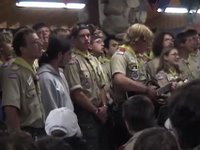 Some of the best things about attending summer camp are the campfire programs at the beginning and the end of the week. The 2007 staff of Buckskin Camp of Many Point Scout Camp did an excellent job of keeping everyone entertained during this summer's opening campfire program. Due to a rain storm that happened to wonder into camp that evening, we had to have the program in the dining hall. The location did not damper the spirit of any of the Scouts, leaders, or staff. Everyone had a great time.
This video of the Melrose Scouting Production Podcast features the Buckskin Staff singing a song about Scouting as the campfire program came to a close. I do not know what the song is titled, but it is a great song that includes the twelve points of the Scout Law. It is a catchy little tune and I find myself humming it while I write this blog entry. Enjoy it and tell your friends about this podcast.
Download Video Podcast
Watch Video on the troop's website.
Subscribe through iTunes.