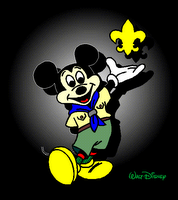 In the last blog post I wrote about Snoopy, the Beagle Scout. I think it is great to see Scouting in this type of media. Innocent, yet very entertaining. Charles Schulz did a great job of touching our funny bone with this favorite Peanuts character. But it was not the only time Scouting has been a part of a major comic strip.
There was once a young boy named Calvin. His best friend was a tiger by the name of Hobbes. For a short time Calvin decided to join a Cub Scout pack and go out for an overnight hike. Calvin quickly discovered that Scouting was not his favorite type of activity. Why, there was no place to plug in the microwave he had brought along. Nope, Calvin and Hobbes would rather spend their days exploring strange new worlds, or playing a rough and tumble game of Calvinball. You can see some of the Calvin the Cub Scout comics here!
The picture I used for this post is Mickey Mouse dressed in a Boy Scout-like uniform. I do not remember where I collected this picture from. I do not know the story behind it. I did a quick search in Google for "boy scout mickey mouse" and did not come up with much. Drop me a line if you know the story behind the picture.
Then, of course, there is Garfield. In 2000-2001 Garfield's creator allowed the fat cat to be used to help promote Cub Scouting. I have not heard anything about how well the promotion went, but I do have my patches of Garfield the Cub Scout that I received at the 2001 National Jamboree.
Well, that wraps up what I currently know about Scouting showing up in popular comic strips here in the USA. I am sure there are other cases of this occurring, but I can not think of any other at the moment.
**Drawing update – So far only two people have entered the drawing for the dvd of Scouting promotional films. If you wish to qualify for the drawing then look back for a previous post about the rules.