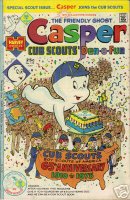 To tell the truth, I have no idea why I have been on a string of Scouting in Comics this last week. But I have enjoyed it, and I get a feeling that many of you who read this blog have enjoyed these posts too. That being said, I have two more things to add to the "comics" list.
I came across this today on eBay. Someone is auctioning a comic book in which Casper, the friendly Ghost, becomes a Cub Scout. It is a 1975 special edition to celebrate the BSA's 65th anniversary. I would not mind bidding on the comic book since it has a starting bid of only $1.99. However, the postage price is pretty steep at $5.60. It really should not cost more then $1.50 to ship a comic book. Besides, now that I have told you all about it, it will probably go for over $150.00. (smiles to myself)
After all, I have seen what can happen when I post something. I wrote about the nine plush Beagle Scout Snoopy's for sale on Amazon. I bought two right away for 3.99 apiece. Good thing I did. The next day, when I thought I should buy a couple more to use as gifts, I noticed all the cheap ones were gone and I would have to pay more for the next ones I bought. I looked again as I was writing this article and noticed there are now only two left. Coincidence? I think not!
The second thing about comics that came to mind today is that Superman has been called a Boy Scout many times. It was done in the comic books, in the movies, and even in the newest incarnation on television, Smallville. Unfortunately, it is usually said when people are making fun about Superman or Clark Kent. You know, who cares? Superman is a great role model. I am glad that even though Superman never was a Boy Scout, people regard his trustworthiness, loyalty, and bravery as Boy Scout attributes.
Well, this is probably the last post about this topic. I hope you have enjoyed it. Don't forget to leave a comment and enter this month's drawing.