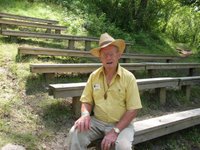 He was already sixty years old when his youngest son became a Boy Scout in Troop 68. When the troop needed an adult to attend a week of summer camp he volunteered his time. This year, Eymard celebrated his nineteenth year of attending summer camp with the Boy Scouts. That becomes truly amazing when you realize that Eymard is now eighty years old.
Eymard was never a Boy Scout as a youth. As one of ten children raised on a central Minnesota farm he never had the chance, or the time, to be a Scout. To tell the truth, I do not think Eymard ever thought about Scouting.
Eymard's son, Peter, joined the troop after a friend talked him into trying it out. Eymard had recently retired from farming and had built a home in Melrose. Peter enjoyed Scouting and it did not take long before Eymard begin helping with activities.
Eymard was 61 years old when he attended a Boy Scout summer camp for the first time, an age at which must men want nothing to do with camping, tents, or a group of teenage boys. Unfortunately, that first summer camp at Crow Wing Scout Reservation was almost Eymard's last week of camp with the troop. The older boys acted so badly and were so lazy that I myself considered resigning as scoutmaster. It was a true sign of Eymard's commitment to the program that he continued to help out at troop functions and became an assistant scoutmaster.
While his son was a member of the troop, Eymard attended various training sessions offered by the district and council. By the time his son retired from Scouting (after earning his Life Rank) Eymard was totally dedicated to the Scouting program. He stayed on as assistant scoutmaster and became the troop chaplain. He continues to attend weekend outings and the annual week-long summer camp regularly.
Eymard has a great time working with the Scouts, and they respect him. He ejoyes helping the younger boys attain the ranks of Tenderfoot, Second Class, and First Class. He has fun teaching the Scouts how to cook meals from scratch. If they is a little free time during the day you may find him playing cards with the boys. No Scout of Troop 68 will ever forget eating Eymard's fresh popped buttered popcorn while sitting around the campfire.
Eymard and I have made a good team during these past nineteen years. We value each other's opinions and are always giving each other some good natured teasing. New boys to the troop pick up on this and quickly accept Eymard as one of their friends.
Eymard has received the "Scouter of the Year" award from the Scenic District. He recently commented that he will continue to be active in Scouting for as long as he is able. I look forward to Eymard being an assistant scoutmaster for many years to come. Hopefully, we will be able to celebrate his 100th birthday during one of our court of honors.