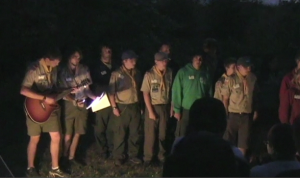 The Buckskin staff of Many Point Scout Camp always has a great song to bring the Friday night campfire to a close. This year was no exception. The staff sang a song about being at camp and enjoying the outdoors. I wish I knew the name of the song. This post to the Melrose Scout Productions Podcast features the Buckskin staff as they sing the song at the July 16th campfire. It was a great tune to settle the boys down for the program's end.
.
.
Click here to DOWNLOAD and watch this Podcast.
Subscribe to Melrose Scout Productions Podcast through iTunes (and rate the show)
or at http://feeds2.feedburner.com/melrosescoutingproductions
Leave feedback at the forums at PTC Media.
Check out other Scouting podcasts at PTC Media.