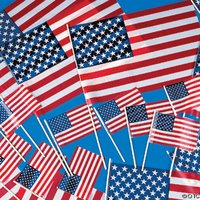 The committee of the Boy Scout troop has recently been discussing ideas about how to get Scouting more visible in our community. The pack has had a few rough years and membership numbers are down. This in turn has hurt the troop since 80 percent or more of our membership traditionally comes from the pack.
One idea that is gaining momentum is to have the Boy Scouts walk along this June's parade route shortly before the parade begins and hand out small USA flags to children and folks sitting along the street. It would be great to see hundreds of flags waving as the veterans ride and march by during the parade. Of course, the Scouts would be in uniform as they pass out the flags.
The Melrose Chamber of Commerce, who is in charge of the weekend festival to be held the last weekend of June, has shown interest in this project. We will be sending letters to the local VFW Post (our charter sponsor) and the American Legion to ask for some financial support to purchase the flags.
The big question is, how many flags do we need? The parade route is a little over a mile long, approximately sixteen blocks. No one really seems to know how many people watch the parade so I started playing around with some numbers. If the Scouts hand out 20 flags per block, ten on each side of the street, we would need about 320 flags. That does not sound like many, does it?
Let's bump that number up to 60 flags per block, or 30 flags per each side of the street. That would be nearly 1000 flags waving along the parade route. That sounds much better.
The cost of 6 inch plastic flags would be $5.99 for 72 flags, through an internet site. The total cost of a thousand flags with shipping would only be about $100.00, a very affordable project that would also give the Boy Scout troop a great way to be seen by thousands of people.
Has you pack or troop ever done anything like this project? Do you have any helpful hints? Please leave a comment if you have any ideas.