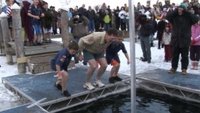 I do not consider myself crazy (although their are some who think you need to be crazy to be a scoutmaster). For example, they are a number of people each year who decide they need to take a quick dip in a hole cut through the ice of a frozen lake in Minnesota. Would I do that? No way! I am not crazy.
But this year in Lake Minnetonka near Minneapolis, Minnesota, hundreds of people decided to bring in the new year by getting nice and cold in the icy water. Crazy, huh? Well, what caught my attention this year is that a group of Cub Scouts decided to join in the festivities. Here is the article from the KARE 11 website:
They came from all over the globe, just to say they did it. Hundreds of thrill seekers leaped into Lake Minnetonka New Year's morning, for the 19th annual Polar Plunge. Organizers say 388 people registered to take the plunge this year, far above last year's record of 298. Hundreds more showed up and registered Thursday morning. In all, 908 people jumped into frigid Lake Minnetonka to welcome 2009.
Among them, Cub Scout Pack 116 from Princeton, Minnesota. The boys recently learned their assistant cub master, Dar Durant, had been diagnosed with cancer, so they took pledges, collected money, and jumped into the lake. The money raised will go to help the family.
Plunge organizers say people from Canada, England, Iran, and Jamaica registered to take the annual dip this year.
I have to give those Cub Scouts and their leaders the credit that is due them. They did a great job of putting others first and helping someone in need. I am sure this is one plunge they will never forget.
By the way, the link to the KARE 11 website also has a couple videos showing the Cub Scouts taking their Polar Plunge. I am not sure how long the video will be available so check it out quickly.