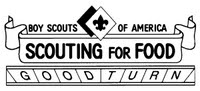 The national office of the Boy Scouts of America has encouraged its troops and packs to participate in an annual Scouting For Food drive for nearly twenty years. These drives have helped tens of thousands of people over the years, and have became a necessity to many of the food banks around the country. Boy Scout Trop 68 is proud to say we have been active in conducting a food drive in our community every year since Scouting For Food began.
One of the challenges of the drive is to promote it. Our local newspapers and local cable access television stations have always been happy to post a bulletin about the event. One more thing we have done some years is ask the city council to pass a proclamation declaring the week between when the bags are dropped off and when they are picked up as
"Scouting For Food"
week. We try to have a few Boy Scouts and Cub Scouts standing around the mayor as he signs the proclamation. The picture looks pretty good in the paper and draws more attention to the service project.
Here is a copy of the wording used in the proclamation by our city:
PROCLAMATION
WHEREAS, hunger remains a pervasive intrusion on the quality of life for millions of Americans; and
WHEREAS, hunger is a problem we can do something about by working together; and
WHEREAS, for more than 90 years the Boys Scouts of America has been an organization committed to community service; and
WHEREAS, the Scouting program instills the positive values of citizenship, ethical decision making, leadership and helping other people as outlined by the Scout Oath and the Scout Law; and
WHEREAS, the Central Minnesota Council of the Boy Scouts of America and its corps of dedicated Scouts and volunteer leaders will coordinate with other groups to conduct a Scouting for Food on October 2, 2004 in this community and throughout the country in a positive example of its longstanding commitment to service of direct benefit to the less fortunate among us.
NOW, THEREFORE, I, Nancy Roering, Acting Mayor of the City of Melrose in the State of Minnesota do hereby proclaim the period of September 26-October 2, 2004, as
"SCOUTING FOR FOOD" WEEK
in the City of Melrose. I urge my fellow residents to join me in expressing the gratitude of an appreciative community, and ask that each of us contribute as best we can to this worthwhile endeavor.
IN WITNESS WHEREOF, I have hereunto set my hand and caused to be affixed the official seal of the City of Melrose this 16th day of September, 2004.
MAYOR SIGNATURE