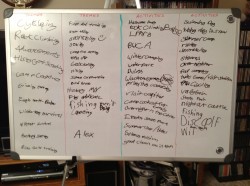 I became a scoutmaster in 1981. I went to district and council training and learned that the Boy Scouts should do the planning for their troop's program.Boy Scout Troop 68 began holding a yearly planning conference during the first or second weekend of August. During the last thirty years it has been fun assisting the troop's junior leaders develop their monthly themes and activities. Some activities became yearly traditions. Others did not go very well and were not repeated.
This year's planning session, held today, will have at least one thing different then sessions of the past 30 years. I will not be attending. I have to work Saturday morning and I have a wedding to attend in the afternoon. I am not the scoutmaster anymore so it is probably best that I do not attend, to just step back and let the new leaders lead.
Jim, our current scoutmaster, will not be going into the planning session blind though. He and I were the adult leaders for last year's session so he has a pretty good idea how to conduct one. Most of the Scouts who will be attending have also participated in a planning session, so things should run smoothly.
Jim did make two changes to the planning session this year. The first should not make a difference. He invited all the Boy Scout members of the troop to attend. The reason I do not think it will matter is that we will be lucky if half the 11 current members attend. Hopefully, the junior leaders do attend because this session is part of their job as leaders of the troop.
The second change he made does worry me a little. He invited parents to attend. Now, I realize that not all the parents will show up. They already have events scheduled, I am sure. My concern is that too many parents will attend and mess up the planning process. I am afraid the program could end up being planned by parents and not by the Scouts.
Am I concerned for no real reason? Will the session run smoothly with the parents there? Will any of them even show up? I guess we will know soon.
How does your troop conduct its yearly planning session? Drop a note and share your ideas with us.