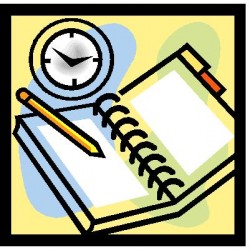 Every once in awhile it becomes a busy week of Scout stuff in this scoutmaster's schedule. This happens to be one of those weeks. Take a look…
Monday, the 14th – The troop meeting. Most of the members of the Mel-TV board of directors stopped by for a photo with the Boy Scouts. They donated a thousand dollars to the troop. Time to replace some equipment this spring.
Tuesday, the 15th – the troop committee meeting. In addition to the usual stuff, we had a board of review for a Tenderfoot Scout. The chairman of the Cub Scout Pack committee attended so we could plan for a Scout recruitment night in April.
Wednesday, the 16th – preparation. Prepared and printed posters for next month's Belgian waffle supper fundraiser. Printed, cut, and bundled the presales tickets for the supper. Met with one of the Boy Scouts to discuss and plan the food list for this weekend's outing.
Thursday, the 17th – packing. Time to prepare the troop gear and pack the personal gear for this weekend's outing.
Friday, the 18th through Sunday, the 20th – the troop's winter outing. This one may not be much of a winter outing. Temperatures have been in the 40's this week. The sledding hill may be brown instead of white.
Monday, the 21st – the troop meeting. We will be using the meeting to have the boys go around town for the presales kick-off for next month's fundraiser. Hopefully, sales will go well.
Tuesday, the 22nd – The Blue and Gold Banquet. The Boy Scouts will be assisting with the opening and closing ceremonies. They will also be doing a short skit. I will be showing a slideshow I prepared featuring the Cub Scouts during their meetings and Pinewood Derby. I will also give the Friends of Scouting talk during the meeting.
Wednesday, the 23 – rest and relaxation. Unless Chris decides we should do a Leaders Campfire episode.
How is your week of Scouting this week?