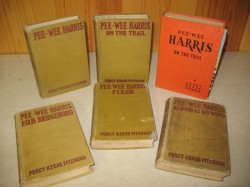 The Reading Merit Badge was introduced to the Boy Scouts of America advancement program in 1925. Boys already had plenty of reading material at that time, including books about fictional Boy Scouts named Tom Slade, Roy Bakely, and Pee-Wee Harris.
I own five of the original Pee-Wee Harris novels, and they are the feature of this week's Memorabilia Monday. A few were found in used book stores. The rest were picked up through online sites like eBay.
I am happy to be able to include these books as part of my Scouting memorabilia collection. Even though they are books about fictional characters, they give us a glimpse into what life was like in the early 1900's, nearly one hundred years ago. It was a world without video games, cell phones, the internet, and television. Boys made their own adventures instead of buying a pre-made one in a store.
The Pee-Wee Harris books are now in the public domain. Many of them are available as free electronic versions through sites like Amazon, Google Books, and Project Gutenburg. Download them for your iPad, Kindle, or Nook. I have already downloaded them even though I still need a device on which to read them. Until then, I will read them the "old school" way, through the printed hardback versions.
100 Days of Scouting: Day 42.