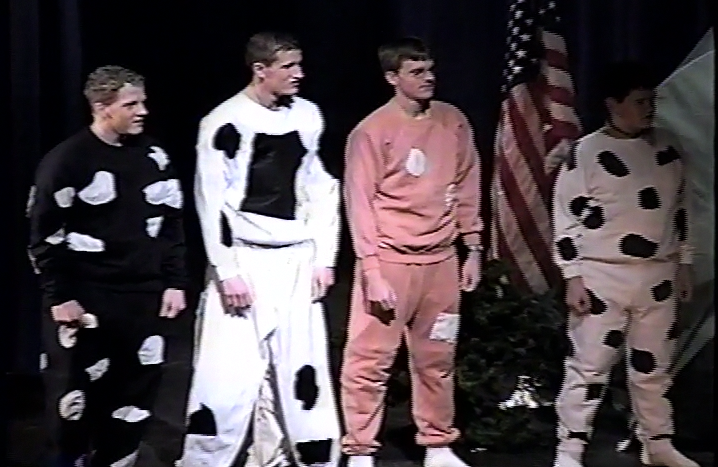 The Boy Scouts of Troop 68 used to like to song songs, mix them up a bit, and write new lyrics to them. They would then perform these "new" versions at campfire programs or during their annual Laughs For Lunch Show. This episode of Melrose Scouting Productions Podcast features one of those songs.
The troop has been spending one spring weekend a year at Camp Watchamagumee (private land north of Melrose). It is one of the Scout's favorite places to camp. We usually have a great time there, but one year things did not go very well. A local farmer had cattle grazing on the forty acre site. Usually, the cattle are not a problem. We leave them alone and they leave us alone. Not that year. The troop was away from camp for awhile to play some softball. When we arrived back at the site the cows had invaded the camp and had damaged equipment along with a few other problems. It was the one time we left camp due to cattle issues.
A couple years later we decided to take the song "Grandma Got Run Over By A Reindeer" and rewrite the lyrics to describe what happened during the weekend in which the cows drove us away from our campsite. Everything in the song did actually take place. This video was taken from the 2001 Laughs For Lunch Show performance. I forgot where the cow costumes came from, but they did add a little something to the song.
Click here to DOWNLOAD and watch this Podcast
Subscribe to Melrose Scouting Productions Podcast through iTunes.
or at http://feeds2.feedburner.com/melrosescoutingproductions