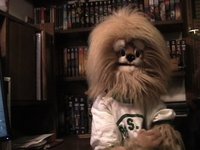 I decided to upload two videos to the Melrose Scouting Productions Podcast this weekend, after all, it is raining outside so I can not go for a bike ride. Both videos feature your favorite Scouting puppet, Buttons, the radical Boy Scout. The first shows Buttons reciting the Scout Law, the second features him talking about the Scout Motto, Be Prepared.
The video featuring the Scout Law is actually the very first video made with Buttons. (Click HERE to watch it.) It was an experiment that went fairly well. I posted it on Youtube and actually received a few positive emails about it. So I made other videos with the puppet.
The video that features Buttons talking about the Scout Motto was probably the fourth or fifth video made with the radical Boy Scout. (Click HERE to watch it.) I thought it might be interesting to hear Buttons point of view on what it means to really Be Prepared.
There are more videos of Buttons waiting for their turn to be placed on this podcast, along with a few ideas for more videos of the radical Scout. Stay tuned to see them all. Or, if you can not wait, check them out at the troop's website.