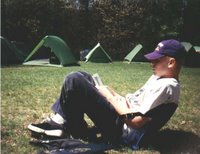 It began on May 18, 2006. There was this scoutmaster (me) who thought it would be a great idea to start an online journal (blog) about his career as a Scout leader (only one hour a week). Since then he has posted 45 entries (this one is #46) covering a variety of topics.
Now, the question is…. is it worth it?
One of the frustrating things about writing a blog is wondering if anyone actually reads it, and what they think about it when they do read it. During the last eight months I have received approximately a dozen comments left on blog entries. I have also received several emails from people relating to the blog. I get the impression that these people have been enjoying the blog.
There have been a couple high points. I was pleasantly surprised to discover that the "Ten Reasons To Be An Adult Leader" was popular enough to be linked to from a couple other websites. Recently, I was reading one of the Scouting forums in which I am a member, when I noticed that someone commented that this blog was a "must read for all". I smiled to myself a few days after reading that one.
I do not consider myself to be a great writer. I know I will never make a living from writing. I have had people tell me that I write like I speak, and that is just fine with me. I have no intention to be anyone other then who I am.
Now, I have a few questions for you, the reader of this blog. Who are you? Where are you from? Do you hold a position in Scouting? Are there some topics you would like to see covered in this blog? Do you like it just the way it is?
Answer the question. Leave a comment or two. I would love to hear from you. Thank you for stopping by and taking the time to read "A Scoutmaster's Blog".