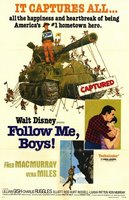 The Boy Scouts of America began in 1910 when the US Congress approved its national charter. Did you know that the motion picture industry started near that time? I think it is amazing that there has not been more films about Scouting during the last hundred years. The number of Scouting related films that I have seen I can count on my hands.
The first movie I saw about Scouting is probably the most popular Scouting-related movie of all time, Disney's "Follow Me Boys". I saw it in 1984 during a trip to Philmont Scout Ranch for a week long scoutmaster's training course. I thought it was a great movie and was in awe of Len Siddons' twenty year tenure being a scoutmaster. It is my favorite Scout movie and I own it on DVD. (A-)
I saw the movie "Mr. Scoutmaster" on television in the early 1980's. It is a 1953 black and white film about a television star who becomes a scoutmaster to get in touch with teenage boys who watch his television show. Of course, things do not go well for him because he is actually quite out of touch with the young men. I have not seen it aired on television very often so I am glad I taped it back then. (B)
"Scout's Honor" was a made-for-television movie that aired in 1980. It starred Gary Colemann as a young orphaned boy who joined a Cub Scout Pack and became a hero. I have not seen it since it aired but do remember it being a cute movie. (B-)
"The Wrong Guys" is a comedy released in 1988. It featured several stand up comedians who played grown members of a Cub Scout den who have a reunion and go out on a camping trip. It was a humorous movie but did not become a big hit in the box office. (B-)
Two Scouting related movies were released in 1989. "Troop Beverly Hills" starred Shelly Long as a leader of a Girl Scout troop who's idea of camping involved staying at a plush hotel. (B) "Indiana Jones and the Last Crusade" was not a movie about Scouting, but it did feature a young Life Scout Indiana Jones during the opening scenes. (A-)
The latest Scouting movie was released in 2005. "Down and Derby" is a film about how obsessive some fathers can be about a Cub Scout pack's annual pinewood derby. It was well done and gave a humorous look at the world of derby races. (B)
I am sure there has been more movies about Scouting made over the years, but these are the only ones I have seen. I bet it will be another five to ten years before I see a new movie about Scouting.