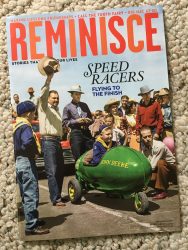 When you are an adult leader, or a former Cub Scout or Boy Scout who is now grown up, it is fun to look back at the Scouting days of your youth. It is fun to reminisce about those Pinewood Derbies, camping trips, or award ceremonies. That is one reason I take so many pictures when I attend a troop or pack function. I know the boys and their parents will enjoy looking back at them several years from now.
Since the national office of the Boy Scouts of America does not seem to do much of anything to promote Scouting outside of their own organization (or if they do, I never seem to catch it) I always appreciate it when I see Scouting represented in a good light in the newspaper or in a magazine. Thanks to my parents I have been reading some issues of a magazine called Reminisce. It features stories written by the readers of those days gone by. Articles include stories from the 1920's through the 1970's. At my age, somewhere in my fifties, I find many of these articles fun to read and even historical.
A few times I have stumbled across pictures and stories in Reminisce that are Scouting related or feature pictures of Scouting events. I really enjoy reading these stories, and the pictures are a blast to look at. One issue a few months ago even featured Cub Scouts participating in a soapbox derby of the cover of the magazine. Another larger photo was included inside. I have spotted Scouting pictures in other issues. Oh, those long ago days…
Have you read any magazines lately that feature Scouting related stories, that are not Boys Life or Scouting magazine? What magazines were they? What was the story? Leave a comment and let us know about it.