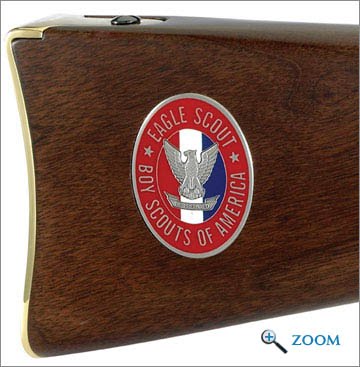 Mike, a former member of Troop 68, recently posted a quick note of our troop's forum about something I thought was awesome, but mothers may not appreciate. Boy Scouts like guns. Every summer camp has rifle and shotgun ranges. Many Boy Scouts hunt for game when they are old enough. It seems one company has decided to do something a little special for those Scouts during the 100th anniversary celebration. Henry Rifles has created a couple of special commemorative rifle to celebrate not only the Boy Scouts of America, but also Eagle Scouts.


The first rifle (quoted from the website)- The Boy Scouts of America celebrate their 100th Anniversary in 2010. To commemorate this occasion, Henry Repeating Arms announces the release of its Henry Golden Boy "Boy Scouts of America® Centennial Edition" licensed rifle. To mark this milestone, this special rifle features the Scouts Oath, Scouts Law, scrollwork and traditional Boy Scouts of America logo embellishing the receiver, as well as a 100 Years of Scouting logo and Centennial Edition gold filled etchings in the buttstock and forearm.
http://www.henry-guns.com/press_bsa100.cfm


The second rifle (again from the website) – The gleaming nickel-plated receiver is adorned with spectacular engraving hand cut by Henry engraver Rob Bunting. The right side is highlighted by the image of a majestic bald eagle accented by distinctive American scrollwork and a banner proclaiming the proud sentiment of all Eagle Scouts: Once an Eagle, Always an Eagle. The left side bears the image of the famous Eagle Scout™ medal and banners reading Eagle Scout and Boy Scouts of America. The engraved images on both sides and the winged leaf border are selectively plated with brilliant 24-karat gold.
http://www.henryrepeating.com/h004es_eaglescout.cfm


Check the links for pictures of these guns. They are gorgeous. I wish I had a couple of thousand dollars laying around to buy them, but unfortunately, I am saving to replace my car this summer. Besides, I don't think I could ever bring myself to actually fire one. Have any of you purchased one of these rifles?