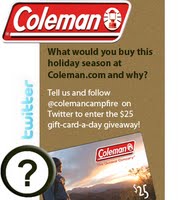 If you are a camper like I am you have some Coleman equipment that you use regularly. If your Boy Scout troop is like mine, they also have some Coleman equipment in their trailer or shed. Coleman has been making camping gear used by Scouts for decades, and I do not see that changing anytime soon.
If you have a Twitter account you may have noticed that Coleman has been holding a $25.00 gift-card-a-day giveaway this month. I was recently contacted by a Coleman representative and asked if I would like to offer the readers of A Scoutmaster's Blog a chance to win one gift card. It did not take long for me to to take them up on their offer.
To participate in this giveaway you will need to do two things:
1) You must have a Twitter account and follow @colemancampfire on Twitter.
2) You must leave a comment to this blog post that includes what you would get with the gift card if you won. Check out
http://www.coleman.com/coleman/home.asp
for ideas. Be sure to include your Twitter name in the post so that it can be verified that you follow @colemancampfire.
Your post must be left on this blog by January 8th. Limit one entry per person. A random drawing for one $25.00 Coleman gift card will be held on January 9th.
Good luck. And thanks for reading
A Scoutmaster's Blog
.