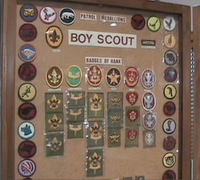 This 78th post to the Melrose Scouting Productions Podcast is the final of four videos featuring the open house held by the Central Minnesota Council on September 2, 2009, to celebrate the "A Century Of Values" tour. This video features other activities that were taking place on the grounds of the council office (displays, bottle rockets, fishing, rope making, bouldering wall, etc). You will see that the Cub Scout age boys had a fantastic time participating in all the fun.
More information about the
"A Century Of Values"
tour can be found on their website at
http://www.acenturyofvalues.org/
Also check out their blog and the post about their visit to the Central Minnesota Council.